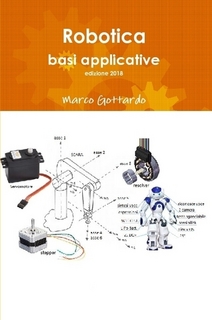 http://www.lulu.com/shop/marco-gottardo/robotica-basi-applicative-edizione-2018/paperback/product-23303890.html
Questo libro ci proietta nell'affascinante mondo della robotica creando il giusto equilibrio tra l'hobby e la scienza ingegneristica. Tutte le nozioni fondamentali sono impartite ovvero le basi elettroniche, meccaniche, elettrotecniche e delle logiche programmabili. Alcuni concetti più complessi richiedono nozioni ingegneristiche, ad esempio nella programmazione dei sistemi quindi vengono introdotti in maniera descrittiva ma comunque soddisfacente. Le relazioni matematiche avanzate, presenti a fine testo, potranno essere apprese in un secondo momento quando gli studi saranno più maturi. Buona lettura e ben venuti nel fantastico mondo della robotica.
***
This book projects us into the fascinating world of robotics, creating the right balance between hobby and engineering science. All the basics are given, that is the electronic, mechanical, electrotechnical and programmable bases. Some more complex concepts require engineering notions, for example in system programming they are introduced in a descriptive but satisfactory way. The advanced mathematical relations, present at the end of the text, can be learned at a later time when the studies are more mature. Good reading and welcome to the fantastic world of robotics.
***
Este libro nos proyecta en el fascinante mundo de la robótica, creando el equilibrio adecuado entre la ciencia de la afición y la ingeniería. Se dan todos los conceptos básicos, que son las bases electrónicas, mecánicas, electrotécnicas y programables. Algunos conceptos más complejos requieren nociones de ingeniería, por ejemplo, en la programación del sistema se introducen de manera descriptiva pero satisfactoria. Las relaciones matemáticas avanzadas, presentes al final del texto, pueden aprenderse en un momento posterior cuando los estudios son más maduros. Buena lectura y bienvenidos al fantástico mundo de la robótica.
***
Este livro nos projeta no fascinante mundo da robótica, criando o equilíbrio certo entre o hobby e a ciência da engenharia. Todos os fundamentos são dados, isto é, as bases eletrônicas, mecânicas, eletrotécnicas e programáveis. Alguns conceitos mais complexos exigem noções de engenharia, por exemplo, na programação do sistema, eles são introduzidos de forma descritiva, mas satisfatória. As relações matemáticas avançadas, presentes no final do texto, podem ser aprendidas mais tarde, quando os estudos são mais maduros. Boa leitura e bem vindo ao fantástico mundo da robótica.